One Night at Flumpty's is a Five Night's at Freddy's fan game made by Jonochrome. 
The  Player, have been kidnapped by Flumpty Bumpty. Because Flumpty needs a friend, but isn't good at social skills, he wants you to play a "survival hide-and-seek game" with him and his friends. If you get a jumpscare, you lose the friendship game and die. But if you survive and make it to 6 AM, you become best friends with Flumpty.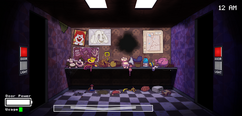 if you click on Ronald McDonald's nose in the Office,it will say "Honk"
If you click on The Dog's nose it will say "Arf"
If you click on the cactus it will say "Im a cactus"